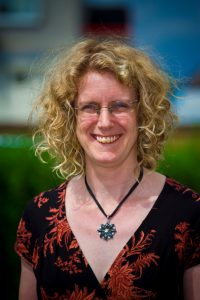 "And I have a sharp pain here," I say, pointing to my shoulder. I'm mid-explanation of my symptoms to the woman in the white coat in front of me. I'm taking part in a role play with a learner, modelling how a conversation with a doctor may go, anticipating the usual mix of useful language practice and laughter at an outrageous mix of contradictory symptoms.
"I'm just going to examine you," says my partner, as she gets up from her chair and comes round behind me. Her touch is deft. Her examination is assured. This doesn't feel like play-acting. "Any other symptoms?" she asks, following up my random list of arbitrary conditions with a sharp look and precise follow-up questions. I am diagnosed and specific medication is prescribed. This isn't standard improvisation. It feels real.
"You have a good manner with patients," I comment.
"Yes," she says. "In my country, I am a doctor. But here…" she shrugs.
Volunteer facilitators are often surprised to find they have professionals in their room in Creative English sessions, including doctors, nurses, opticians, teachers and magistrates. The barrier of language and the inevitable culture shock involved in adjusting to life in a different culture's system masks the wealth of skill and potential that's there. Refugees face significant barriers in working in the UK: highly skilled professionals have qualifications that are not recognised and are unfamiliar with British systems. Others have fled war before completing their education, and therefore need support to get back on their chosen career path. Learning the language is a first step along the road – and not only do they need confidence and competence in conversational English but they also need competence in the technical jargon within their professional field.
Popular culture often stereotypes refugees into the role of the victim; however, they have demonstrated resilience, resourcefulness and determination in order to reach the UK in the first place. These character traits alone are ones which are assets to the host nation, including to the economy. This month, Germany reports it is starting to reap the benefits of welcoming significant numbers of refugees. It is on track for 80% of working-age refugees to be in work within 8 years of arrival. Most significantly, it is seeing refugees, 60% of whom were under the age of 25, filling skills gaps in an ageing population. Germany was suffering a skills shortage of electricians; refugees on a German apprenticeship scheme are now filling this gap. In fact, according to Wolfgang Kaschuba, former director of the Berlin Institute for Empirical Integration and Migration Research, Germany needs about half a million immigrants every year to maintain economic well-being. The populist view that immigration damages the economy is simply a misconception. Analysis conducted by the UK's Migration Advisory Committee Research shows immigrants contribute more on average to the public purse than native-born Britons do.
To unlock the potential, we need to invest in the appropriate support necessary for new arrivals to navigate unfamiliar systems in a new culture and unfamiliar language. Faith-based organisations can play a key role in both formal and informal mentoring; helping people form the networks of support which help them take the steps they need to integrate and progress into work. The range of social action projects delivered by faith-based organisations also offer opportunities for people to use their skills and abilities to help others and contribute to their community, as well as draw from it – right from the start. The ability to give is one of the basic elements of good mental health. It is simply not good for any of us to be passive and dependent. Using skills and abilities not only benefits the host community but allows the giver to create or reinstate an identity beyond that of asylum seeker or refugee. In Creative English, for example, we have groups where established refugees are the host community facilitators of the programme for new arrivals. The creative methodology in the sessions themselves encourage the use of communication skills beyond words, which enables learners to contribute their ideas and sense of humour before they have the English language, right from the moment they first walk into the room. Physically embodying possibilities through the drama opens up possibilities in real life.
Returning to my session, by the end my improvisation partner had 'treated' a number of patients in the role play. Tears sprang to her eyes. "I just realised," she whispered. "I can be a doctor again. I can do it in English. I can do the training. I can be a doctor again." The next stage of her journey had begun.
Last week I met someone who had been treated by her in hospital. And this time, there was no acting involved.