Learning English

should
be
fun!
We all remember the teacher at school whose lessons were fun and engaging. More importantly, we remember the content too. Having fun has such a lot of benefits – not only do you learn the language, but you make friends and feel like you belong.
Creative English plays on this by using drama, puppets and games to teach English to those with very few or no language skills. Scenarios are inspired by real life and have soap opera style story lines that run from week to week.
Creative English during coronavirus
Join us for regular sessions where you can meet online with other people who work or volunteer supporting English language learners find a place of belonging in the UK.
Find out how we've adapted Creative English to run online over Zoom and how you can get involved.
Designed for delivery locally
Including
Churches – Mosques
Community Centres – Libraries
Schools – Synagogues
Including
Churches
Mosques
Community Centres
Libraries
Schools
Synagogues
Clear and proven methodology
to laugh their way to confident English!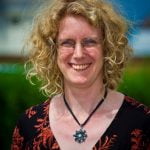 Creative English was developed by FaithAction using Dr. Anne Smith's PhD research at Queen Mary University of London. The programme is based on the theory that drama-based sessions increase the sense of belonging for participants, and therefore help them learn at a quicker rate. Anne is now the Lead Trainer for the programme, providing training and support to groups running the course, while helping to develop areas of the programme even further.
To date, over 10,000 learners have benefited from Creative English classes. And 100% of those who had completed at least 10 sessions of the course said their confidence in general had improved as a result.
The programme initially received funding from the Ministry of Housing, Communities, and Local Government (MHCLG) in 2013, as part of a £6 million scheme to reduce isolation and marginalisation of communities across England.
In addition, we also ran the Creative English Innovation and Sustainability Fund in partnership with MHCLG in 2014. This gave out grants of up to £10,000 to 16 projects to build sustainability and support them in using creative methods of teaching English.
Find out more about Creative English and the how we help people laugh their way to confident English!