Creative English
for Families
Childcare is a significant barrier to many women access English language provision. That's why Creative English has explored ways of taking our unique method of teaching conversational English and incorporating the whole family into the learning methods.
Dr Anne Smith, author of the original Creative English programme, found that learning conversational English through fun play-based activities with the whole family in a safe environment quickly builds trust and community between parents, children and facilitator.
Each session strengthens the relationship between parent and child with craft, role-play, story-telling and games they take part in together. By focusing on participants who would not normally engage with child-centered activities, Family Learning helps created a strong foundation for starting school.
At the end of each session, adults will have developed increased confidence in using conversational English in everyday settings, while children will have made progress towards milestones in line with the Statutory Framework for the Early Years Foundation Stage.
"The holidays are very hard for me. The kids – all of us in one room – go crazy, crazy. Going out cost too much money. This place is like godsend. Children come – all are happy. We laughing – doing something new every time. Friendly people. Kids not go crazy at home. I not go crazy. This is like medicine – keeps us all well because we come."
"The classes helped my children get ready for school.  In England, school is very different. In my country, you just listen to the teacher and copy from the board. In Family Learning, we liked making things and the story time. It is a good way of learning – very interactive."
"Before, he would cry. It would just be us, alone, at home, and I didn't want [to] go out, because he [would] cry, every time. I bring him to English class, with crèche. Now, he is happy. His freedom is my freedom."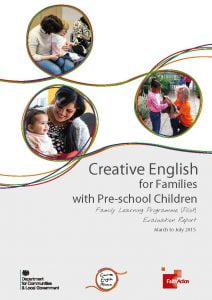 Between March and July of 2015, a pilot of the Family Learning Programme was run by five organisations around the country, with the scheme funded by the Department of Communities and Local Government. In total, six 10-week programmes were run, utilising different methods, and the outcomes of these were used to compile an evaluation of the Family Learning programme.
Eltons Award Nominee 2016
I really want to thank the ELTons for recognising this programme — it's great to see adults and children growing in language confidence together on this course. We all benefit from learning through playing! It lays a great foundation for the families and their future schools too. Every Creative English programme is built on an ethos of making people feel included and having fun while learning, and Creative English Family Learning really does that.
—Dr Anne Smith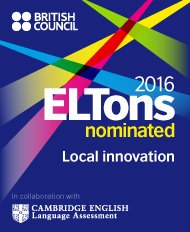 Call us to discuss a package that meets your needs!
Leave us your details and a member of the Creative English team will be in touch to discuss your needs.